Choose refurbished when you can...
new when you have to
Standard 3 year warranty
30 days money back
Ordered before 3 PM
Delivered the next working day
Directly form stock and delivered for free
Within the Netherlands and Belgium
Buy a Refurbished Mac | 3 years of warranty
Buy a refurbished Mac
Purchasing a new Apple Mac is a major investment. However, there is a good alternative: buying a refurbished Mac!

A refurbished Mac is a used Mac that has been professionally serviced. This means that the Mac is fully tested, cleaned and (if necessary) fitted with new components so that it is once again in excellent technical condition. However, a refurbished Mac is a lot cheaper than a new Apple: the saving can be several hundred euros.
Why buy a refurbished Mac from iUsed.eu?
Just as when buying any used product, purchasing a used Mac has both advantages and disadvantages. The disadvantages are that minor damage is sometimes visible, that the original packaging is often missing, and that the range on offer is more limited. However, by choosing iUsed Store, you can benefit from a competitive price and many additional advantages.

All Macs shown in the iUsed.eu webshop are available immediately. All these used Apple computers are refurbished, have a clean OS X installation and free OpenOffice or LibreOffice, and are approved by our own technical service. This means that we can guarantee that orders placed before 15:00 will be sent the same working day. Basic shipping is free, and because iUsed Store uses PostNL PakjeGemak, you can choose when to receive your order yourself.

What's more, all refurbished Macs from iUsed Store come with a 3-year warranty as standard. Uniquely, iUsed Store offers an extra discount if you choose a reduced warranty of 1 year. In addition, we offer a 14-day money-back guarantee with free return shipping on every Mac purchased.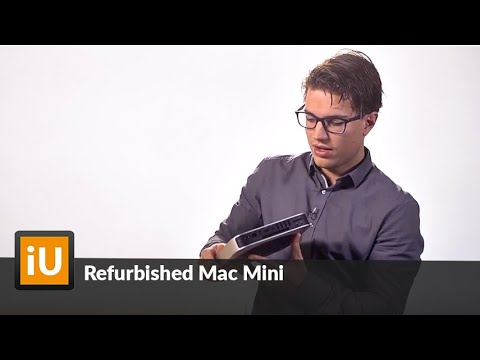 Mac Mini models
The Mac Mini is available with or without a DVD drive. Be aware of this when making the correct choice. Once you have found the right Mac Mini, don't wait too long: they are quite scarce and can quickly sell out.


Mac Pro models
The Mac Pro can be divided into two generations based on the design of the casing. The first-generation Mac Pro has an aluminium casing and was produced by Apple between 2006 and 2012. Although the design remained virtually unchanged during this time, the processors, memory and video cards were updated several times. In addition, WiFi was built in as standard from 2010 (this was an option with older models), and the wired mighty mouse was replaced with the wireless magic mouse. In 2013, the second-generation Mac Pro appeared: a polished, reflective aluminium cylinder.


Accessories
A commonly-used Apple accessory is the Display. There are two types of Displays from Apple: the Cinema Display and the Thunderbolt Display. The Apple Cinema Display is a series of computer monitors with a variety of screen sizes, including 20 inch, 23 inch and 30 inch. The latest model in this series is the LED Cinema Display, which has a screen size of 27 inch. In 2011, this was replaced by the Thunderbolt Display, which has the same design and screen size. The difference between the two can be found in the connection: the LED Cinema Display uses a Mini DisplayPort and USB, while the Thunderbolt Display has a single Thunderbolt connection for data transfer between the computer and display. Once you have found the right Apple Display, don't wait too long: just as the Mac Mini, they are quite scarce and can quickly sell out.