Choose refurbished when you can...
new when you have to
Standard 3 year warranty
30 days money back
Ordered before 3 PM
Delivered the next working day
Directly form stock and delivered for free
Within the Netherlands and Belgium
Buy a Refurbished MacBook | 3 year warranty
Buy a refurbished MacBook
Purchasing a new Apple MacBook is a major investment. However, there is a good alternative: buying a refurbished MacBook!

A refurbished MacBook is a used MacBook that has been professionally serviced. This means that the MacBook is fully tested, cleaned and (if necessary) fitted with new components to return it to excellent technical condition. However, a refurbished Mac is a lot cheaper than a new Apple: the saving can be several hundred Euros.
Why buy a refurbished MacBook from iUsed.com?
Just as when buying any used product, buying a used Mac has both advantages and disadvantages. The disadvantages are that minor damage is sometimes visible, that the original packaging is often missing and that the range on offer is more limited. However, by choosing iUsed Store, you can benefit from a competitive price and many additional advantages.

All MacBook models shown in the iUsed.eu webshop are available immediately. All these used Apple computers are refurbished, have a clean OS X installation and free OpenOffice or LibreOffice, and are approved by our own technical service. This means that we can guarantee that orders placed before 15:00 will be sent the same working day. Basic shipping is free, and because iUsed Store uses PostNL PakjeGemak, you can choose yourself when to receive your order.

In addition, all refurbished Macs supplied by iUsed Store come with a 3-year warranty as standard. Uniquely, iUsed Store offers an extra discount if you choose a reduced guarantee of 1 year. In addition, we offer a 14-day money-back guarantee with free return shipping on every Mac purchased.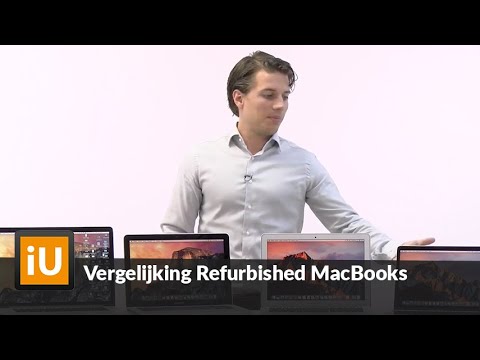 MacBook Pro models
The
MacBook Pro
is available in various models. Often, the first step is to choose the desired screen size and type. Apple has three MacBook Pro screen sizes: 13.3 inch, 15.4 inch and 17 inch. The 13.3 inch and 15.4 inch models are also available with a Retina display; these are known as the MacBook Pro Retina. Next comes the choice of processor, video card, memory capacity and storage capacity. The memory and storage capacity can often be increased. If this is possible, then this option will be shown on the relevant product page.
MacBook Air models
The
MacBook Air
is available with two different screen sizes, namely 11.6 inch and 13.3 inch. Both models weigh less than 1.5 kg. The memory and storage capacity often cannot be increased.
MacBook models
There are three different MacBook models: the MacBook White, the MacBook Alu and the newest MacBook 12 inch. The MacBook White is a MacBook with a sturdy plastic casing made from polycarbonate and a screen size of 13.3 inch. The MacBook Alu has an aluminium casing comparable to that of the MacBook Pro, and a screen size of 13.3 inch. The memory and storage capacity of both models can often be increased. If this is possible, then this option will be shown on the relevant product page.
The MacBook 12 inch is the newest model from Apple. With a weight of just 0.9 kg and a thickness of 13.1 mm, this is the lightest and most compact MacBook. The memory and storage capacity cannot be increased.